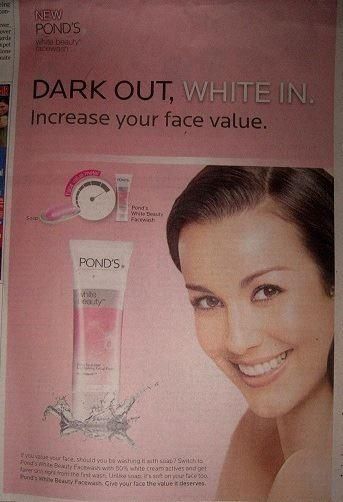 I recently saw this picture floating around facebook recently about an ad in an Indian newspaper from Ponds. It has caused quite a bit of uproar from people who are outraged that Ponds could publish such a racist ad, and I agree with them. However I noticed a couple of themes in people's comments though that I wanted to address.
1. Ponds is reinforcing the belief that fairer is better, not introducing it to the Indian market.
2. People bleach their skin for the same reason people tan their skin – to attempt to indicate affluence through their skin tone.
Here goes my sociology brain to explain.
Growing up with brown skin (and not being "fair" enough) it was reinforced to me that I should do all that I can to lighten my skin. I never used bleaching creams but I distinctly remember being told that I shouldn't play out in the sun, I should wear long sleeved clothing in the summer, and I should apply lemon juice to my skin before showering all in an attempt to reduce the darkness in my skin. Of course I still played outside, wore t-shirts and often didn't apply lemon to my skin (a natural bleaching agent) but it was made apparent to me by my fellow darker-skinned relatives (mostly aunties) that I just wasn't fair enough.
As I grew older I realized the implications of it and refused to tell myself that I wasn't beautiful or desirable. I've grown to accept my skintone and love the benefits that come with it. I do still avoid the sun but it's only because I take skin cancer seriously and I don't really like the burning feeling of UV rays on my skin.
I've also learned that in many areas of the world where darker skin is the norm that lighter skin is seen as desirable. There is a clear reason why this is. Historically those of the greatest privilege were those who didn't have to work outside and were served by others – the upper or royalty class. Being inside meant that their skin would be less exposed to the sun and thus, their complexion was more fair than those who served them and had to work outside (ie. general labourers, farmers, etc.). Fairer skin was a visible indication of affluence. This is the reason why historically in Europe and parts of Asia women would wear white makeup to enhance their paleness, similarily to how we now apply bronzer in the West.
Tanning in Western countries (a mostly North American phenomena) is the equivalent of skin bleaching in other parts of the world. I often hear or read people's explanation for these two acts as humans wanting what they cannot have. It's not really the whole truth as these two acts are done so in direct reference to the cultural context where they reside. In Western countries most people work inside and tend to stay fairly pale. Tanned skin indicates that people are able to go outside on vacation to warmer climates, which indicates a level of affluence as the person is not tied down to a regular job (or a job at all). Those who are vastly wealthy can afford to take extended vacations and spend most of their time in leisure while everyone else is stuck indoors working.
Relating this back to the Ponds commercial, it definitely is perpetuating the belief that darker skin is undesirable. I really despise this message and I genuinely believe that everyone should stop attempting to achieve unrealistic beauty standards. It's unhealthy and incredibly damaging. Women tend to be their own worst critics and horrible to each other when it comes to outward beauty and I really hope that more women of colour will stop buying into the belief that they are undesirable just because their skin is darker or not fair enough. Once I accepted myself for who I am and stopped telling myself that my dark skin wasn't beautiful, I started living a much more happy and satisfying life.