Canadians can finally rejoice because Real Techniques has partnered up with the Canadian distributor Farleyco Beauty to sell their brushes in Canada. Currently they are only available online on their website but will be available in stores soon once they finalize distribution deals with Canadian retailers. I really hope they will be able to secure Shoppers Drug Mart since this will make the brushes readily available in many areas of Canada.
The downside to their current availability online is that Farleyco only carry the three brush kits and not any of the individual brushes. Hopefully they will be able to sell those too because there are a couple of the single ones that I would like to get seconds of.
Prices range between $25-28 before taxes. If you're ordering from within Canada you will be charged GST/HST, and if you're ordering from outside Canada you may be charged with duties upon arrival of your package. Shipping within Canada is a flat rate of $8.50 with a 7-10 day delivery but is expedited for free on orders over $50.
These are the three collections they stock. Click on the picture to take you to Farleyco's website. It's worth noting that these same sets are $14.99 USD in the States.
STARTER SET – $24.99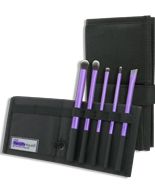 This is a great set to start out with. My favourite brush from this set is the deluxe crease brush which I use to apply my undereye concealer. It's so dense and soft which makes it perfect for the job.
The accent brush and base shadow brush come in a close second. The accent brush is great for inner tear duct work or under eye liner work. The base shadow brush I use for highlighting my brow bone but it's also great for an all over shadow brush.
The other two I don't use that often but are great when I want to do special looks. I find them both too thick for applying eyeliner so I use them when I'm doing drawing work or haloween looks.
CORE COLLECTION – $27.99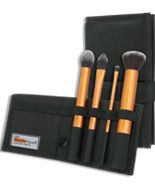 I have this set as well and think it's the better of the two only because I use all of these brushes on a daily basis. The buffing brush is amazing for applying foundation and it's been my go-to foundation brush since I got it.
The contour brush is great as well and I love that it's small enough that it gives greater control for contouring. I've seem massive contour brushes in other lines and never understood why they would make a contour brush so large.
The pointed foundation brush is great for applying setting powder under the eyes and around the nose since it's great for getting into small crevices.
And finally the detailer brush is great for applying concealer to small spots, aorund the nose and around the lips.
TRAVEL ESSENTIALS – $26.99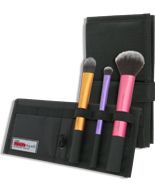 I don't have this set as I chose to purchase the other two instead. The main reason is I found the blush brush intimidating. My face is fairly small and large brushes like that are overwhelming for me to apply blush with. My face brush is smaller than it!
The other two brushes look like they would be useful. The domed shadow brush looks like a hybrid of the deluxe crease brush and the base shadow brush from the Starter Set collection. Since I love those two brushes I can only assume that I would love the dome shadow brush as well.
You can purchase these brushes from Farleyco's website: Real Techniques Brushes. They also sell Eco Tool brushes, which is another cruelty-free makeup brush line.
Please note that I am not affiliated with Farleyco nor do not have any experience shopping with them as I did not purchase my Real Technique brushes from them. Therefore this post is not about me making a recommendation, but rather about me passing on the information that the Real Technique brushes are available through them. For those who live in Toronto and Brampton, these three sets are also available at Designer Cosmetics stores For those living in the West Coast, some London Drugs stock Real Technique brushes.