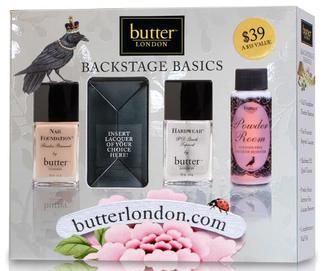 Name: Butter LONDON Backstage Basics Kit
Items: Base coat, top coat, remover & buffer
Extra: Slot for nail polish of choice
Packaging: Cardboard box, glass containers
Cost: $46 CAD, $25 USD (at Ulta)
Availability: Butterlondon.ca, Sephora.ca
Expiry: 30 months after opening
Vegan: Yes
Cruelty-free: Yes
Paraben-free: Yes
Sulfate-free: Yes
I've been wanting to check out Butter LONDON for a while after seeing so many raves on youtube. They are on the high end and since I am running out of room to store my products I wanted to think about what I wanted rather than making a rushed purchase. I decided that I wanted to get their base coat called Nail Foundation, which I heard was really amazing, as well as the colour Wallis, which is supposed to be a very unique golden olive colour.
When I found out my cousins were visiting from the States for Christmas I went on Ulta's website to see if I wanted anything. I saw this kit and it was perfect. It comes with the top coat, base coat, nail polish remover and a slot for the polish of your choice for a fraction of the price. What a steal! The price in the States is also way cheaper at $25 plus $14 for the nail polish where as it's $46 in Canada plus $17 for the polish. So I saved $24!
Here is a summary of my pros and cons for this kit. I will probably do individual reviews on its contents after I've used it for a while.
PROS
– Kit comes with the essentials for a fraction of the price
– All products are cruelty-free (vegan and not tested on animals)
– All products are high quality and long lasting
– All products are free of many harsh chemicals used by other brands
– Butter LONDON has a Canadian website (no duty fees!)
CONS
– The cost is pricey, especially in Canada which is $21 more just for the kit
– The lid needs to be pulled up before screwing off, which I find annoying
Overall I think this is a great kit which comes with top knoch products. It's also a great gift and since it's not a Christmas-only kit it can be purchased anytime.
Overall: 5 out of 5
Recommend: Yes
Repurchase: Yes, but not anytime soon (these will last me a while)