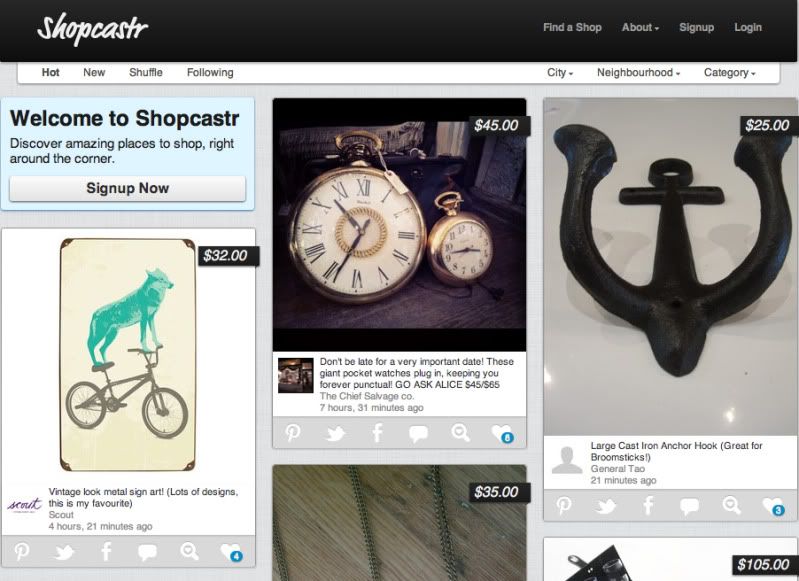 A local venture was brought to my attention recently called Shopcastr. According to their About page on their website,
Shopcastr makes it simple for retailers to show off their best products and lets consumers window shop their favorite stores.
Basically a Torontonian like myself who likes to shop online can how window shop my local retailers online so I can have the benefit of shopping in my jammies at home while also checking out the shops around me. Retailers post their best products on the website and allow people to pin/share the pictures of their products on Pinterest, Facebook or Twitter.
The downside to the site is that you can't actually buy things online. It's used more as a method of posting items that you can potentially buy if you actually go to the store. I guess they're using it as a motivational tool to get those who have turned to online shopping to revert back to shopping in person. I'm not sure if they can convince me though. I like the ability to browse on different sites to find something I like, and the ability to revisit the sites anytime I want. Plus I don't have to deal with the anxiety of going into stores, especially if I'm the only person in there (for some reason I get really uncomfortable when I'm the only customer in a store). Then there is also the whole, I can't shop in my jammies, aspect of it.
On the plus side, you can also narrow down the featured items by location in Toronto (ie. Yorkville, Little Italy, Eglington West, etc.), which makes it a lot easier to find something locally. For those who are lazy like me and would rather buy something online than travel to a part of Toronto that is longer than a 30 minute walk away, this is great to see what's in your local area that you may not have known about. I'm not too adventurous when I go out so this is an added bonus for me. I can discover my local shops without actually going into them. Haha…it might sound crazy, but I don't think I'm the only one like this.
Anyway, check out the website if you're in Toronto. It seems pretty cool and it would be interesting if this local entrepreneurial project takes off into different cities.
Website: Shopcastr