I remember being a pre-teen in junior high and girls in my class would compare their eye colours. Girls with blue, green and hazel eyes would compare their eye colours and brag about how their eye colour was better than one another, but it was assumed that having lighter coloured eyes was more desirable. Those with dark eyes would try to convince each other that their eyes were a lighter shade of brown than the others, and basically the person with the lightest brown eyes got bragging rights. I always came in last because I had the darkest eyes and kept trying to convince others (and myself) that I had brown eyes. It was only years later when I finally admitted to myself that I had black eyes.
Now I know many people who will say that black eyes don't exist. That's true if you take it literally, but it's meant to be a description of extremely dark brown eyes.
Characteristics of black eyes:
– Black eyes look black to the naked eye
– It is hard to distinguish where the pupil and iris begin and end
– You can only see the eye is brown when light is shone into it
I can only tell that my iris is brown when I shine a light into it. In indoor lighting (that's not blasting into my eye) I cannot see my pupil unless I am standing within 6″ of a mirror, and even then it's not very apparent unless I get the light to shine into my eye.
Here are some pictures of my black eyes. The first was taken in indoor lighting and this is how it looks like most of the time. The second two are in morning sunlight so you can see a slight brown tinge on the outer part of the iris, but you still can't see where the pupil begins. I was giving a bigger smile in my second picture, which is why my eye appears smaller. I think I wasn't smiling at all in the first shot, and it was taken last summer when I was growing my eyebrows in.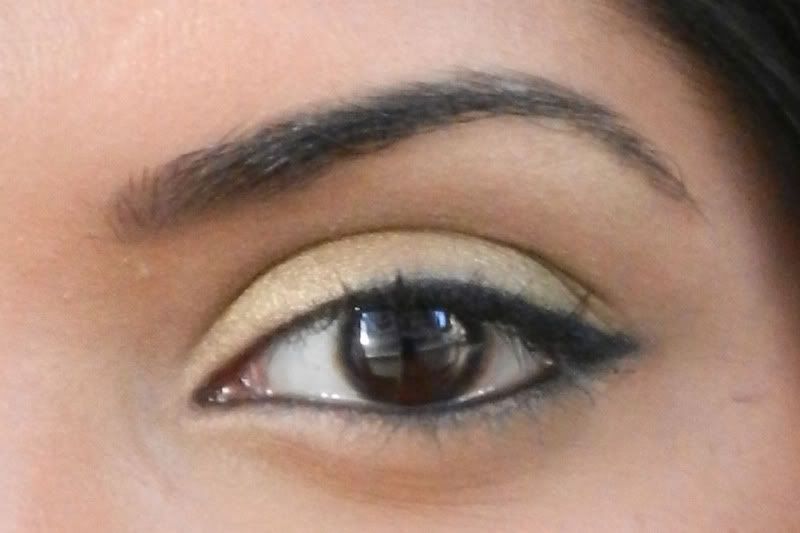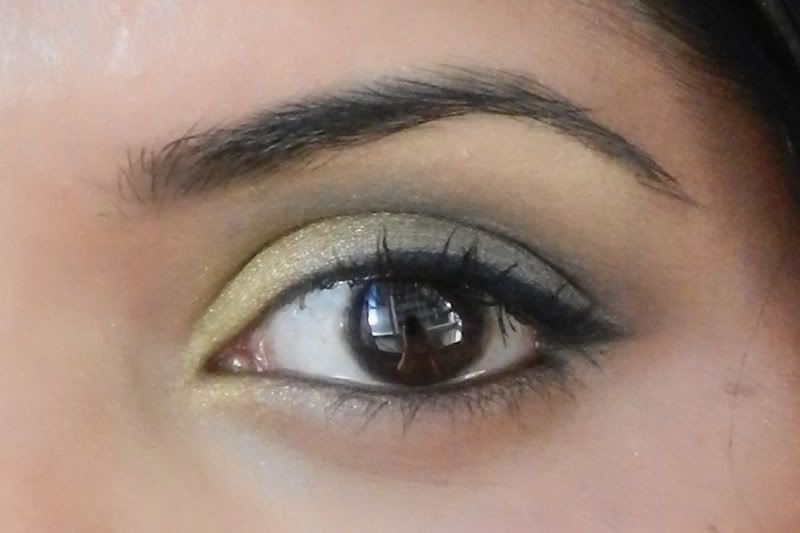 For a while after accepting this about myself, I didn't think it was anything to be proud of. I still bought into the idea that lighter coloured eyes are more desirable and my eye colour was at the end of the spectrum of desirable eye colours. It was only about a year ago after I decided that I need to start loving myself for who I am and not beat myself down for something I'm not. So what if I had black eyes? Why not make the best of it and stop believing that I'm not as beautiful as someone with blue or green eyes.
After I started to hold this perspective I started to see myself differently and (I know this is going to seem cheesy) my eyes opened to see myself in a different way. Suddenly I started to realize the beauty that came with some of the colours I could pull off. These were colours I had worn before but after changing my view I looked so much more appealing to myself. I started to become proud of my black eyes.
Here are the pros and cons with having black eyes. These are things I've discovered on my own and only recently found other articles about black eyes that verified my observations.
Benefits of black eyes:
– I can wear almost any colour (ok colours never look terrible, just ok)
– I can wear black eyeliner everyday and it doesn't look overdone
– Bright, vibrant blues, greens, purples and golds look AMAZING on me
– I can wear metalics, shimmers and pearl shadows for everyday looks
– Smokey eyes look amazing and I wear them for day looks sometimes
Downside to black eyes:
– Matte colours look bland
– Some light (pasty) colours look unappealing
My message to anyone reading this is to stop believing what others think is desirable and start believing that you are beautiful. Once you accept yourself for who you are and stop trying to be someone else you will begin to have an incredible amount of satisfaction and joy in your life. You no longer strive to get others approval because you believe in yourself.
[Update]
If you want to see eye makeup looks I've worn that work for black eyes, check out my pinterest board: Eye Makeup For Black Eyes