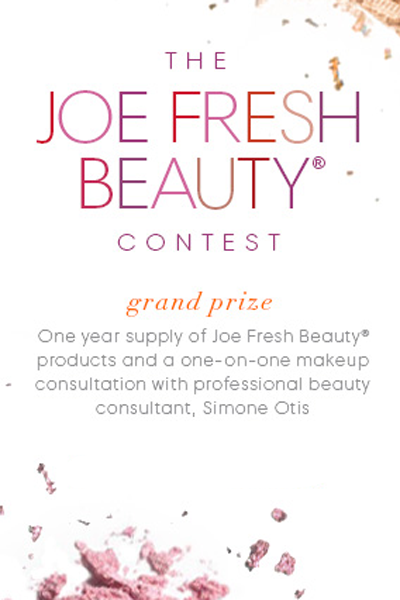 Joe Fresh is currently having a contest where the grand prize is a year supply of makeup (not really sure how much that would include) and a personal consultation with Simone Otis. That's pretty damn cool. The second place prize is not bad either – they're giving away 5 prizes of $50 Joe Fresh gift cards. To enter one must like their Facebook page.
It's interesting to see how companies are using Facebook pages and apps to run contests. I recently went to a talk on social commerce and it was said that having people like a facebook page increased sales because it increased the engagement between the company and consumers. Very interesting.
Personally I hardly ever like a page and I value my privacy over free products, but from a marketing perspective I can see how this is a great way to pull people in and keep them interested. Many people join pages because of contests and tell themselves that they can always unlike a page after, but few do. People are lazy and this type of marketing really taps into that.
Anyway, I just wanted to put it out there for anyone interested that Joe Fresh is having a contest to win their cosmetics. Their products are cruelty-free and very good for being a drugstore brand.