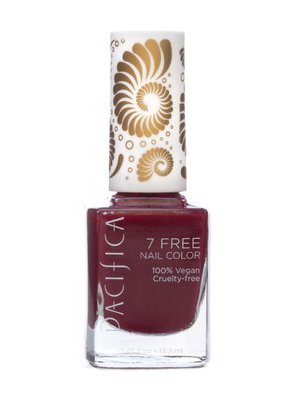 Brand: Pacifica Beauty
Product Name: 7 Free Nail Color
Formula: Smooth, red liquid
Packaging: Standard nail polish bottle; synthetic brush
Cost: $9 USD, $9 CAD
Amount: 13.3 ml, 0.45 fl oz
Availability: Well.ca
Expiry: Unknown
Vegan: Yes
Cruelty-free: Yes
Paraben-free: Yes
Leaping Bunny Certified: No
I don't think I've fallen in love with a nail polish quite like how I've fallen in love with this one by Pacifica. First of all, I don't really care about packaging too much but this lid is stunning! I was admiring it for a good ten minutes when I first got this polish. In terms of formula, it is excellent. It is pigmented, glides on smoothly and dries quickly. It's also compltely cruelty-free, vegan and free of 7 harsh chemicals. All over, this is an allstar product.
The only downside is its availability. The only place that I know of in Canada that sells Pacifica products is Well.ca, which is where I got this polish from. I checked their website and they don't have any physical retailers either so it looks like Well.ca is the only option.
Here is the instagram picture I took of the polish. This really doesn't do it justice. It looks much better in person when sunshine glare isn't interfering with seeing how rich this colour is.
PROS
∗ Cruelty-free, paraben-free, vegan, and free of 6 other harsh chemicals
∗ Applies smoothly with no streaks or bumps
∗ Very pigmented; only needs 1-2 coats
∗ Dries quickly
CONS
∗ No Canadian retailer
OVERALL: 5 out of 5
RECOMMEND: Yes
REPURCHASE: Yes