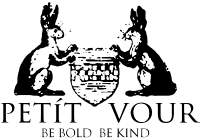 A while ago I had written a post called why I don't subscribe to beauty boxes, and the number one reason I provided was that the products could not be guaranteed to be cruelty-free. Well I found out about two vegan and cruelty-free boxes and chose to try out Petit Vour.
Note: I'll provide a review of the products included in my first box in a separate post.
DESCRIPTION
Petit Vour is an e-commerce beauty website that also offers a monthly beauty box that is curated by a vegan blogger, vlogger, writer, etc. Each box includes 4-5 vegan beauty products, most of which are large sample sizes but can sometimes also be full-sized.
COST
Petit Vour operates on a pre-charge basis, which means when you first sign up you are billed for the box and subsequent months you'll be charged on the first of the month. The cost for Canadians is $27 USD per month, which will fluctuate in CAD depending on the exchange rate. This includes shipping and I did not have to pay cash on delivery when it arrived. For my first box the retail value of the items were $43.50 USD.
For U.S. customers, there are able to choose a 1-month ($15), 3-month ($45) or 6-month subscription ($90), which then auto-renews to $15 per month for subsequent boxes. For Canadians there is only one option of $27 per month with an automatic renewal, so if you want to only purchase one box you'll need to let them know immediately.
SHIPPING
The cost of shipping is included in the $27 rate. When my box was shipped out I was sent an email with a tracking number with DHL. The downside of the tracking is it only tracks the box until it is handed over to Canadian customs, which is a bit frustrating. From the date the package was picked up by DHL to when it was delivered, it took exactly a week (5 business days). I had expected 2-3 weeks so I was pleasantly surprised. Note that I reside in Toronto so delivery times will vary depending on where you're located in Canada.
PACKAGING
The Petit Vour box is a bright pink box with their logo on the sides and the text "BE BOLD. BE KIND." on the front when the top is opened. The dimensions are about 7″ wide by 4″ in length and 2″ deep with the package order is stuck on the top of the box. Inside is plain cardboard stuffed with black crimped paper and the items placed snuggly within the box.
Also included is a card stating the name of the box for the month on one side and a description of the curator and products included on the back of the card. The descriptions include the names of the product, how to use it and the retail cost.
Everything included in the box's packaging is recyclable.
ADDITIONAL
In emails I've received since my first box, they have stated that if you purchase any items prior to your box being shipped out, you can choose to include the items in your box to save on shipping costs.
* * *
OVERALL
I had a good experience with this box. I found that they had sufficient communication throughout the process and I loved that the shipping time was only a week. I was happy with the items included in my first box, especially since three of the four were full-sized products. I think it is a good value for $27 and especially great for those who are just getting into the cruelty-free or vegan scene or who just want to try out a bunch of new products.
PROS:
∗ Cruelty-free & vegan products only
∗ Sometimes includes full-size products
∗ Shipping included in price & no COD
∗ 1 week shipping (to Toronto)
∗ Email sent to notify box was shipped out & includes tracking number
∗ All packaging included is recyclable
CONS:
∗ Billed in USD so price will fluctuate depending on exchange rate
OVERALL: 5 out of 5
RECOMMEND: Yes
REPURCHASE: Yes